*Single Of The Week*
Finnish indiepop duo Burning Hearts are back with a beautiful new single.
'Work Of Art' is taken
from their upcoming 3rd album due to be released later this year via
Shelflife Records.
Burning Hearts

[Finland/Helskini]

- Work of Art (2016)
tba
Genre: Indiepop, Dreampop
Label:
Shelflife Records
Album Release Date: tba
Don't be real, be postmodern on Indietector Radio


**You can listen to the show every night from
monday to sunday**
10pm-midnight (BST)
23-01 (CET)
5pm-07pm (EST)
via

http://ind-etectorrad-o.playtheradio.com/
http://timmi-x.blogspot.com/
or
http://indietector.blogspot.de/p/blog-page_31.html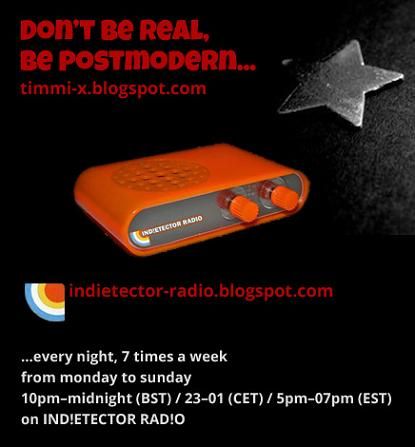 Also added to the playlist this week

***New Singles& Songs***
The Stone Roses

[England/Manchester]

- Beautiful Thing (2016)
tba
Genre: Indierock, Madchester
Label: Universal Music
Single Release Date: June 10th, 2016
The Frank And Walters
feat.
Cillian Murphy/Whipping Boy
[Irland/Cork]

- Stages (2016)
Songs for the Walking Wounded
Genre: Indie, Britpop
Label: FIFA Records
Album Release Date: April 15th, 2016
Puro Instinct

[USA/Brooklyn]

- Peccavi (2016)
Autodrama
Genre: Dreampop, Electropop
Label: Manifesto
Album Release Date: June 24th, 2016
Eagulls

[England/Leeds]

- Velvet (2016)
Ullages
Genre: Indie, Postpunk
Label: Partisan Records
Album Release Date: May 13th, 2016
Panda Riot

[USA/Chicago]

- June 20th (2016)
Infinity Maps
Genre: Shoegaze
Label: Saint Marie Records
Album Release Date: tba
The Creases

[Australia/Brisbane]

- Impact (2016)
Genre: Indie, Britpop, Madchester
Label: Liberation Music
Single Release Date: May 4th, 2016
Teenage Fanclub

[Scotland/Bellshill]

- I'm In Love (2016)
tba
Genre: Indie, Britpop
Label:
PeM, Merge
Album Release Date: tba
Honey Lung

[England/London]

- Souvenirs (2016)
Genre: Indie, Dreampop, Britpop
Label: Swimming Tapes
Single Release Date: March 4th, 2016
FRONTEERS

[England/London]

- Full Moon (2016)
Streets we're born EP
Genre: Britrock
Label: Warren Records
Ep Release Date: July 8th, 2016
She Makes War

feat. Tanya Donelly/Belly

[England/Bristol]

- Paper Thin (2016)
Direction Of Travel
Genre: Indie, Gloom-pop
Label: The state51 Conspiracy
Album Release Date: April 8th, 2016
Corbu

[USA/New York]

- Battles (2016)
CRAYON SOUL
Genre: Indie, Psychpop
Label: 3Beat Productions
Album Release Date: August 5th, 2016
Tiny Fireflies

[USA/Chicago]

- Ghost (2015/2016)
The Space Between
Genre: Dreampop
Album Release Date: Novemeber 11th, 2015
Ruede Hagelstein
feat C.A.R

[Germany/Berlin] - Footprints

*Can Love Be Synth Remix*

(2016)
Footprints Remixes
Genre: Electropop
Label: Watergate
Ep Release Date: June 17th, 2017
Marsheaux

[Greece/Athens]

- Safe Tonight (2016)
Ath.Lon
Genre: Electropop
Label: Undo Records
Album Release Date: June 16th, 2016
M!R!M

[England/London]

- Avoid (2016)
Genre: Postpunk, Experimental
Single Release Date: June 13th, 2016
Thrushes

[USA/Baltomore]

- Two Ships (2015/2016)
Exposing Seas
Genre: Shoegaze
Label: New Granada Records
Album Release Date: September 18th, 2016
Salt Rush

*feat.Mark Peters/Engineers*

[England/London]

- Carry On (2016)
Salt Rush
Genre: Dreampop, Electropop
Label: Pedigree Cuts
Album Release Date: June 24th, 2016
Polarsets

[England/Newcastle upon Tyne]

- Another Place To Hide (2016)
Genre: Britpop
Single Release Date: June 10th, 2016
Helen Love

[Wales/Cardiff]

- A Boy From Wales Called Gareth Bale (2016)
Genre: Electropop, Euro 2016 anthem
Label: Alcopop! Records
Single Release Date: June 10th, 2016
Four Lions

*Shaun Ryder, Paul Oakenfold, Goldie, Kermit*

[England/Manchester]

- We Are England (2016)
Genre: Madchester, Euro 2016 anthem
Label: BMG
Single Release Date: June 8th, 2016
(click on the following links to watch/listen)
Beyond The Wizards Sleeve - Creation (video)
Angelic Milk - Rebel Black (video)
Secret Company - Midnight Rush (video)
B-Movie - Corridors
Day Wave - Hard To Read (video)
DJ Shadow - Bergschrund feat Nils Frahm
Lessons - Tempest (video)
Hush - Teenage Weekend
Hurricane #1 - I Wanna Kill You (video)
COLOR PALETTE - SEVENTEEN
In Letter Form - Edison's Medicine (video)
The KVB - Never Enough (video)
Jenny Hval - Female Vampire
Merchandise - Flower of Sex (video)
PAUW - High Tide
Fling - Extra Special (video)
Phantogram - You Don't Get Me High Anymore
Red Sleeping Beauty - If You Want Affection
Skaters - Rock And Roll Bye Bye (video)
The Halls - Lemonade
The Rifles - Numero Uno
Wrstlng - Meds
Tourists - Quiet Room
Cheerleader - A Million Way (video)
Self Talk - Clean Washing
Toothless

feat. Marika Hackman

-

Palm's Backside (video)
Dems - Gold (video)
Night School - These Times
The Strokes - Drag Queen (video)
#‎
Indie‬
‪#‎
Shoegaze‬
‪#‎
Dreampop‬
‪#‎
Britpop‬
‪#‎
Madchester‬