this edition of postmodern has no single of the week. it was too difficult to decide cause of too many amazing new releases incl. Jaws, The Radio Dept.,Dinowalrus, Red Love, Rain, Jim Bob, Colour Of Spring, only to name but a few...enjoy!!!
DERMO, lead singer from madchester/baggy/indie-rave legends Northside has shared the video for his debut solo song 'vultares'
Dermo

[England/Manchester]

- Vultures
another britpop comeback. well known for their 90s hits 'sparkle', '12 reasons why i love her' or 'it's a girl thing', My Life Story return with their first new single in 16 years. 'the 24 hour deflowerer' is out on november 1st via their own exilophone records label.
My Life Story

[England/London]

- The 24 Hour Deflowerer
here's another great taster from birmingham/uk indierock lads JAWS eagerly awaited new 2nd album 'simplicity' - out november 4th...
JAWS

[England/Birmingham]

- Work it Out
Simplicity
brighton/uk-based indierock four-piece band Black Honey have dropped the video for their excellent new single 'hello today'
Black Honey

[England/Brighton]

- Hello Today
beautiful tune from new york indie/dreampop/shoegaze duo Miss Mobile Home taken from their debut album 'glimmer down', released june 24th...
Miss Mobile Home

[USA/New York]

- Sleepwalker
Glimmer Down
swedish dream-/electropop band The Radio Dept. will release their new album, 'running out of kove on october 21th via labrador...'we got game' is another stunning taster...
The Radio Dept

[Sweden/Stockholm]

- We Got Game
Running Out Of Love
beautiful new single from los angeles shoegaze/dreampop band Tears Run Rings. 'in surges', their third album is out december 2nd via deep space recordings...
Tears Run Rings

[USA/Los Angeles]

- Things Have Changed
In Surges
great debut single from manchester indierock/electronica band Nihilists featuring former Puressence singer james mudriczki. their double a-side single 'wallspace/over is so over' is out november 4th on classic album club records.
Nihilists

[England/Manchester]

- Wallspace
nice 60s psychedelia influenced tune from hackney, east london duo Ultimate painting taken from their new lp 'dusk', released september 30th via trouble in mind records...
Ultimate Painting

[England/London]

- Song For Brian Jones
Dusk
bristol/uk indierock outfit The Shimmer Band have dropped the video for their epic new single 'sunkick'
The Shimmer Band

[England/Bristol]

- Sunkick
australian psychedelic/dance act Jagwar Ma have shared another taster from their forthcoming 2nd album 'every now & then' - out october 14th via mom + pop
Jagwar Ma

[Australia/Melbourne]

- Slipping
Every Now And Then
new zealand indiepop darling Princess Chelsea has premiered the video for 'morning sun', a cover of marianne faithfull's 1965 song. her new album 'aftertouch', a collection of covers - recorded between 2010-2016, is out october 14th via lil' chief records...
Princess Chelsea

[New Zealand/Auckland]

- Morning Sun
Aftertouch
turkeys finest indie/dreampop band The Away Days have unleashed the video for their great new single 'world horizon'
The Away Days

[Turkey/Istanbul]

- World Horizon
tba 2017
britpop heroes Cast have shared the video for their new single 'do that'...new album is due for release in early 2017
Cast

[England/Liverpool]

- Do That
tba 2017
awesome new single/video from brooklyn based psychpop/madrave band Dinowalrus. their new album 'fairweather' was released september 23rd via personal projects records.
DINOWALRUS

[USA/Brooklyn]

- FALLING TO THE PERIPHERY
Fairweather
quality screamadelica-esque Primal Scream rmx of london-based artist jamie girdler and producer brendan lynch aka Society's new single 'will to win'
Society

[England/London]

- Will To Win

(A Genuine Primal Scream Remix)
great new single/video from brighton-based alternative rock/post-punk three-piece Tall Ships
Tall Ships

[England/Brighton]

- Meditations On Loss
Impressions
manchester band New Order have revealed the video for their latest single 'people on the high line'. the song is taken from the album 'music complete' - released in september last year via mute records.
New Order

[England/Manchester]

- People On The High Line
Music Complete
maybe some of you know this tune from back in 2014...amazing single from london based indie/noisepop/post-punk act Sky Between Leaves, produced by legendary sound engineer pat collier (adorable, primal scream, jamc...) the track is taken from their debut 'klein blues' ep - out digitally and as a limited-edition 10″ blue vinyl on october 3rd via horus music and bandshell records...
Sky Between Leaves

[England/London]

- Klein Blues
Klein Blues Ep
this tune is fckin ace...new single/video from indierock/psychpop duo Red Love, new band from matt tong (former drummer of bloc party) and alex newport (producer of bloc party's 'four' album) debut album out october 1st...
Red Love

[England/London]

- Does It Make You
Red Love
leeds/uk indierock/shoegaze band COLOUR OF SPRING have revealed the video for their fantastic new single 'snow' - released september 23rd via swirly records
COLOUR OF SPRING

[England/Leeds]

- Snow
new single/video from legendary british alternative-/gothrock band The Mission - new album 'another fall from grace' out september 30th via eyes wide shut recordings
The Mission

[England/London]

- Tyranny of Secrets
Another fall from grace
latest single/video from australian neo-britpoppers DMA'S
DMA'S

[Australia/Sydney]

- Step Up The Morphine
Hills End
new video from Carter USM's JIM BOB taken from his new album 'jim bob sings again - accompanied on the piano by chris t-t' (an album of covers of his own songs) - available at his forthcoming uk tour and also via his website and amazon after the tour...
JIM BOB

[England/London]

- Cartoon Dad
Jim Bob Sings Again - Accompanied on the Piano by Chris T-T
a sign from north london electropoppers Real Lies. terrific rmx of Pet Shop Boys new single 'say it to me'...shortens the waiting time for their 2nd album...
Pet Shop Boys

[England/London]

- Say It To Me (Real Lies remix)
another quality shoegaze tune... promising swindon/uk four-piece RAIN with their great new single 'lethargy'
Rain

[England/Swindon]

- Lethargy
new video from aussie shoegazers Flyying Colours. debut album out september 22th via Club AC30
Flyying Colours

[Australia/Melbourne]

- Long Holiday
Mindfullness
birmingham/uk indierock lads JAWS have dropped the video for their stunning new single 'right in front of me'...2nd album 'simplicity' out november 4th. we're really looking forward to..
Jaws

[England/Birmingham]

- Right In front Of You
Simplicity
(click on the following links to watch/listen)
Heavy Heart - The World Is a gumball
Royal Arcade - Earthbound (video)
Deacon Blue - This Is A Love Song (video)
Joyce Manor - Last You Heard Me (video)
Broken Flags - Dare To Dream
One Sentence. Supervisor -
Algo Rhythm (video)
TEMPLES - CERTAINTY
Kidsmoke - See The World (video)
Empathy Test - Seeing Stars
Mystery Jets - The World Is Overtaking me
Tycho - Epoch
The Father And The Sun - Dad (video)
No Middle Name - Fading Photo (video)
Yeti Lane - L'aurore (video)
Still Corners -
Down with Heaven and Hell (video)
School of Seven Bells - Signals (video)
Newmoon - Helium (video)
A Festival, A Parade -

If Dogs Could Talk
Swimming Tapes - Tides
Fear Of Man - Sane (video)
Seeing Hands - I Know You
Rev Rev Rev -
We can but dream (video)
Phillip Boa & The Voodooclub - Twisted Star (video)
High Tide 15:47 - And The Bubble Burst
HPKNS -
Soda Man (video)
Don't be real, be postmodern on Indietector Radio
**You can listen to the show every night from
monday to sunday**
10pm-midnight (BST)
23-01 (CET)
5pm-07pm (EST)
via

http://ind-etectorrad-o.playtheradio.com/
http://timmi-x.blogspot.com/
or
http://indietector.blogspot.de/p/blog-page_31.html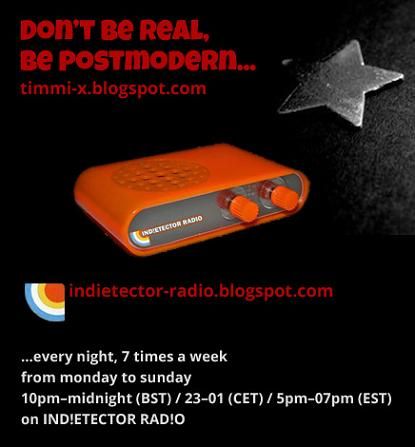 #‎Indie‬ ‪#‎Shoegaze‬ ‪#‎Dreampop‬ ‪#‎Britpop‬ ‪#‎Madchester‬